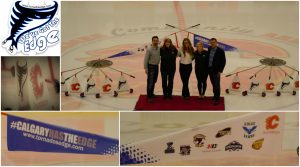 We are running a pilot for Alberta Minor Hockey in the fall of 2017. The Alberta hockey community has been a perfect location to evolve the Tornado's Edge. We have received so much support from Hockey Calgary,  minor hockey, figure skating clubs, individuals passionate about hockey, and the Flames Foundation. Earlier in the year, senior management at the Flames wanted to understand how minor hockey would incorporate the Edge Trainer into an existing practice scheme. They felt many children would benefit from accelerated learning on the device. That was when the Flames Foundation offered a rebate to minor hockey associations that wanted to use the Tornado's Edge. The program allows thousands of young hockey players access to enhance their skating abilities.
Associations that are Participating
Bow River Bruins
Glenlake Hawks
Northwest Warriors
Calgary Saints
Southwest Cougars
Springbank Rockies
Trails West Wolves
Coaldale Cobras
Airdrie
Smoky River
Okotoks Oilers
We are very thankful to the vision of innovative leaders in the above associations.  They are the first group that will set the trail for so many others in the future.  The intentions are to help young hockey players of the future.  We believe that is real sports leadership.  Thank you pilot members, Hockey Calgary, and the Flames Foundation.
Company Brief
The Tornado's Edge™ trainer gives physical support to skaters of all ages to strengthen confidence with controlled repetition learning (muscle memory). It allows young skaters to practice the difficult task of learning how crossovers are accomplished. More advanced skating edge techniques can also be refined with the support of the trainer. Applications of the device seem to expand all the time. When adults use the device, they benefit from the support because falling can be much more dangerous as age increases. Individuals with physical or visual disabilities can also expand their activity potential with the Tornado's Edge™.
The trainer is the brainchild of Derek Fortier and Gerard Beaulieu of Forsche Enterprises LTD. The product was developed and tested in minor hockey environments. Derek, who is a minor hockey coach, conceived of the idea when he was helping his sons with skating technique. Coaches and players alike get very excited when they see the trainer in action. The first question is "How do we get this in our practice?". If you are interested in sponsoring a team with a trainer, please Contact Us.