Background
Tornado's Edge is a skate training innovation that rapidly accelerates an individual's ability to learn new skills.  It was developed to be an on-ice support trainer that is easy for coaches to incorporate into a training plan.
Skating, Crossover, & Edge Trainer
Reinforces Muscle Memory
From Beginner to Advanced Skills
Builds Confidence
Accelerates Learning

Any Skating Sport
Inclusive Social Trainer
Kids Love It
Scales a coach
Uncomplicated Design
It's a brilliant piece of equipment.

Ken King, CEO Calgary Sports and Entertainment Corporation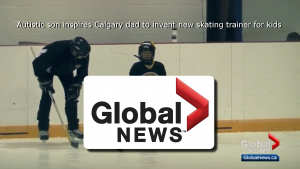 General Information video on the Trainer
More Information www.tornadosedge.com
Facebook https://www.facebook.com/TornadosEdge/
Twitter  https://twitter.com/TornadosEdge
Instagram  https://www.instagram.com/TornadosEdge
Purpose
The trainer was designed as a confidence and muscle memory builder for skating.  When the innovation was being developed, there were several intended and unintended benefits that resulted.
Confine the training to a station
Make it simple to assemble
Instant height adjustment
Independent movement

Enhanced drill momentum
Easy to assist skaters
Easy to demonstrate in front of skaters
Maintains social learning experience
Learn to Skate
Advanced Edges
The advantage of the trainer for an advanced skater is that they can be instructed to be low and perform exaggerated strides to increase muscle memory.  A drill like "shoot the duck" can be practiced in a less intimidating process.
Accelerated Learning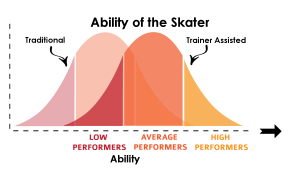 Remove Fear
We believe everyone deserves the opportunity to skate. One of the unique strengths of our trainer is how all individuals can increase their abilities. From kids that are too afraid to be on the ice to advanced edge development. How can a device help such a wide range of individuals? It boils down to the stress generated by fear. When an individual is in a highly stressful state, deep learning is very limited or impossible. Our brain is in a "get me out of danger" mode.  The next time you are being chased by a bear, try learning multiplication tables! Although the example is extreme, it puts some perspective on the problem.  In any group of skaters, fear can vary considerably.  By providing a predicable risk free environment, deep learning is enabled. It is in this state that abilities get formalized in the brain.  For an anxiety prone first time skater, this can make a massive difference.  Rather than just walking, they try to glide sooner when they feel supported.  Once the confidence has been established, then trying off the trainer isn't so scary.  Skating is very complex and learning never stops.  Fear returns as the skater is put into unfamiliar maneuvers.  Once again, a predicable risk free platform helps learn that next challenge.  Muscle memory and confidence increase and a new skill becomes an accomplishment.  The learning opportunity on the trainer has a very wide footprint.  That is why we believe the abilities of all levels of skaters can benefit.  The trainer will effectively shift the curve of skating abilities by removing the fear barrier.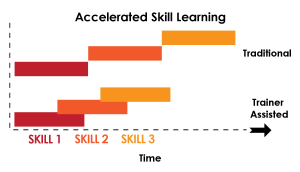 Skill Development
We have learned that the real power of the trainer is how skills can be introduced 1-2 years sooner than traditional skate training methods.  The skater can practice the skill with the support of the trainer.  We see first time children able to do trainer assisted crossovers in a very short time.  The motion is learned early.  More advanced skills can be introduced and practiced on the trainer while they refine the skills they already know off the trainer.  It allows the skater to be practicing a wider range of skills at any given time.  They end result is a child that accelerates their skill development.
The Power of Fun
There is an element of how learning can be accelerated by making an activity fun.  Children describe the Tornado's Edge as a merry-go-round or an amusement ride.  Not only has a safe risk free environment been established, the fun factor has just put learning into overdrive.  The kids see the new things they can do and they don't realize it would have been an uncomfortable experience in the past.  They are performing skills the pros do!  The consistent response from kids is that the trainer was the best part of the practice.  That is how power of fun further accelerates learning.

Ordering/Delivery
We are taking orders via email at sales@tornadosedge.com.  We are currently selling the units however we are considering leasing options to make the costs an operating expense.  We will consider adjusting price points for multi trainer purchases and potentially for a "first in" for a new geographic region.  The delivery schedule for the 2017/2018 season varies with demand.  We can typically deliver at a maximum of 4 weeks if no inventory is available.  We do carry extra inventory for the fall push.  Because the trainer is such a new concept, the adoption is unpredictable.  The best way to ensure delivery is to secure a unit(s) with a deposit.
Existing and Planned Trainer Locations
The following list have between 1 – 4 trainers at each location.

Broadmoor Arena
Sherwood Park, AB
Collins Perley Sports Complex
St. Albans, VT
Elgar Petersen Arena
Humboldt, SK
Prince Rupert Recreation
Prince Rupert, BC
Fuller Lake Arena
Chemainus, BC
Fernie Memorial Arena
Fernie, BC
Grande Cache Recreation Center
Grande Cache, AB
Trail Memorial Centre
Trail, BC
Golden & District Centennial Arena
Golden, BC
Shoreview Arena
Shoreview, MN
Naga-Waukee Ice Arena
Delafield, WI
Pembina Arena
Evansburg, AB
Resol Community Centre
Chauvin, AB
Kin Centre
Prince George, BC
Explosive Edge
Airdrie, AB
Okanagan Hockey Group
Penticton, BC
Sun Bowl Arena
Osoyoos, BC
Pason Centennial Arena
Okotoks, AB
Falher Recreation Complex
Falher, AB
Airdrie Twin Arena (Ron Ebbesen)
Airdrie, AB
Revelstoke Forum
Revelstoke, BC
Okotoks Recreation Center
Okotoks, AB
River Cree Twin Rinks
Enoch, AB
Baytex Energy Centre
Peace River, AB
Kelowna Memorial Arena
Kelowna, BC
Skylands Ice World
Stockholm, NJ
Hamiota & District Sports Complex
Hamiota, MB
Coaldale Sportsplex
Coaldale, AB
Max Bell Centre
Calgary, AB
Huntington Hills
Calgary, AB
Flames Community Arenas
Calgary, AB
Cardel Rec South
Calgary, AB
Bowness Sportsplex
Calgary, AB
Don Hartman NE Sportsplex
Calgary, AB

For a list of arenas including details http://tornadosedge.com/edge-locations/
Alberta Pilot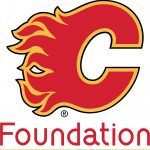 We were fortunate enough to catch the attention of the Flames organization.  They felt the trainer will help kids improve skating skills.  They decided to help associations in Alberta with a pilot.  The pilot will run for the 2017/2018 season.  The decision has allowed several minor hockey associations to have access to the trainers.
Advertising & Donations
The trainer was designed with advertising as a potential revenue stream for the association.  We are working with individuals in the corporate world to leverage this advantage. We also have an option for small communities.
Option for Small Communities
One of the best donations I have seen in sports.

Jeff Cowie, CanSkate Parent
Demonstration
When possible, we are available to bring the trainer for an on ice demonstration for an association.  We typically show the trainer for 30 minutes with 4-8 of your children at various skill levels.  We follow that with 20-30 minutes of discussion for any questions.  The demonstration will be kept to a drill plan we have unless there is a request for a specific drill prior to the demonstration.

Company Brief
The Tornado's Edge™ trainer gives physical support to skaters of all ages to strengthen confidence with controlled repetition learning (muscle memory). It allows young skaters to practice the difficult task of learning how crossovers are accomplished. More advanced skating edge techniques can also be refined with the support of the trainer. Applications of the device seem to expand all the time. When adults use the device, they benefit from the support because falling can be much more dangerous as age increases. Individuals with physical or visual disabilities can also expand their activity potential with the Tornado's Edge™. The trainer is the brainchild of Derek Fortier and Gerard Beaulieu of Forsche Enterprises LTD. The product was developed and tested in minor hockey environments. Derek, who is a minor hockey coach, conceived of the idea when he was helping his sons with skating technique. Coaches and players alike get very excited when they see the trainer in action. The first question is "How do we get this in our practice?". If you are interested in sponsoring a team with a trainer, please
Contact Us
.